I will be catching up on my blogging over the next several days. And as I am starting on my first catchup post quite late this evening, it will be short. We must be up early tomorrow morning for communion at 7:00 am in the chapel. Chapel, a gathering of the diocesan compound staff, normally starts at 7:30. It usually consists of a scripture reading, a discussion of the scripture, prayers and announcements. It's a really great way to get all of the staff starting the day on the "right page" so to speak. As everyone scatters to different churches on Sundays, they gather for "family" Communion of Fridays.
Things have changed, as one would have expected, around to guest hostel. For one thing, it is all finished! Our rooms were the only rooms completed when we were here last. Sometime after we left, "my" kitchen, in the other room off of the sitting room was shifted from our suite to a small room that I thought was meant to be the guest house office. Everything I brought is still there, plus more, and Markalina and Betha oversee making sure that there is hot water and fruit and hard-boiled eggs for breakfast and afternoon coffee. I have a key so I can get in whenever I want but it is really Marlina's kitchen.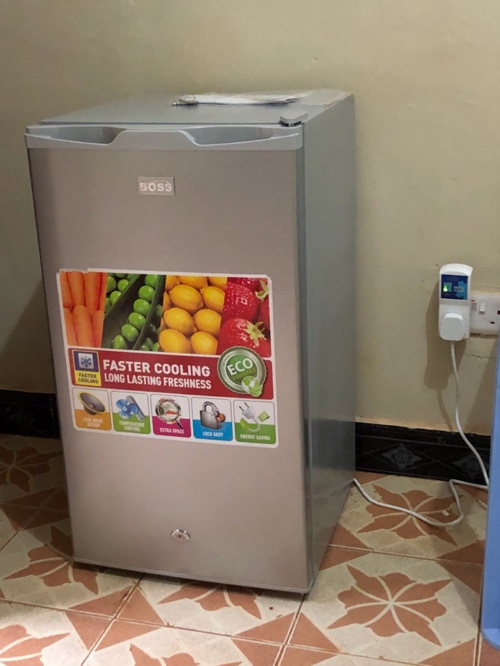 The new fridge.
We discovered that the small fridge we purchased for it two and a half years ago is really only fit for cooling canned sodas and very small snacks. The top shelf is so close the the internal freezer section that food is in danger of freezing solid. The bottom shelf is taken up by the shelf on the inside of the door. I decided that we needed a bigger fridge so that we can better keep things like eggs and fruit and veggies fresh. Tuesday morning was spent finding and purchasing that item, as well as getting our TZ phones correctly activated. The small fridge is now in the kitchen (it was previously in our sitting room.). And we have discovered that our new African phones will work very well and fairly inexpensively as wi-fi hotspots. Of course, we won't be doing any Netflix streaming over them!
Please continue to pray for us, that we use our time wisely and get the proper amount of rest verses ministry activities. More tomorrow!
It's been two and a half years since we last visted Tanzania and since I have last been out of the country. For those of you who have been following us for a while, that's 18 months later than we originaly planed to be back.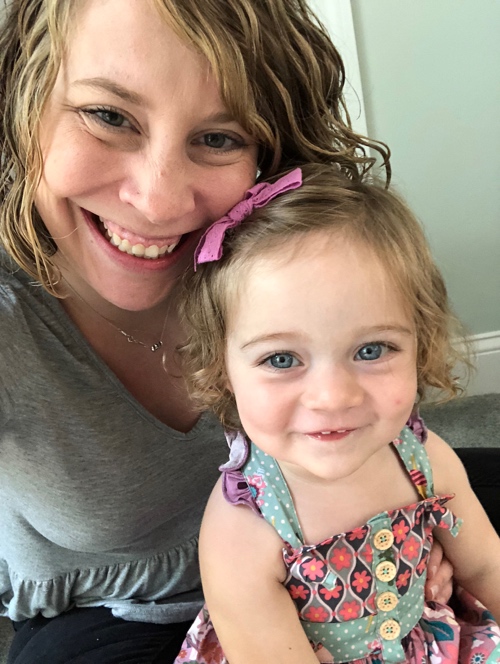 Evelyn and her Mom, Abbie.
There have been many changes in our lives and here in Kasulu in those 30 months. The greatest blessing was February 2nd 2017 when our grand-daughter Evelyn was born. She is one of the major joys of our lives. The day after she was born, I went for my annual mamagram, which led to a diagnosis of breast cancer three weeks later. While I was not expecting it, I wasn't completely surprised either. We had originally planned to come back to Tanzania in April of 2017. But something kept telling me to delay making our final plans.
I journaled through my diagnosis steps and treatments and had planned to blog about thrm, but those of you who are also cancer survivors know how much mental as well as physical energy cancer treatment takes.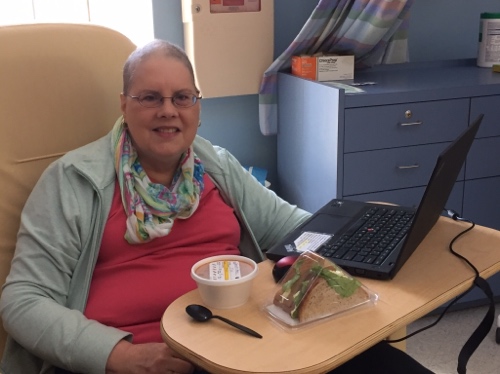 Hospital wi-fi: working during treatment.
I was blessed. Treatment was not fun and there were definately some major hiccups along the way, but I had a whole host of people praying for me, including all my friends here in Kasulu. The plan was always to take 2017 and a little bit of 2018 and return to Tanzania and other similar activities once treatment was completed. I even managed to work throughout my treatment except for a few weeks after my surgery.
So here we are. This time we brought a friend from St. Paul's with us, Bob Cutting. This ended up being a particular blessing when we had a miscommunication about our limo pick-up and Elsa, Bob's wife was there, willing and able to drive us and all our luggage to the airport. (Well, Bob drove down, but she dropped us off and drove back.).
We left New York Saturday morning and landed (via Dubai) in Dar es Salaam Sunday afternoon. An overnight stay is Dar es Salaam and then a flight to Kigoma where we had a very brief meeting with Bishop Makaya at the airport. He was flying out on the plane that we had just flown in on.
Most of the road from Kigoma to Kasulu is still in the process of being engineered and paved. We had a LOT of luggage and four passengers and a driver all crowded into the Bishop's car. The drive was very tiring and I am realizing that while I am healed and have no evidence of disease, I have not yet recovered the energy levels and stamina that I enjoyed two years ago. So, a change in me, and I am praying that over this next week and a half away from a stressfull job and in this beautiful country that God will not only use me, but also help me to regain the rest, strengh and stamina that I previously enjoyed…..
Until tomorrow….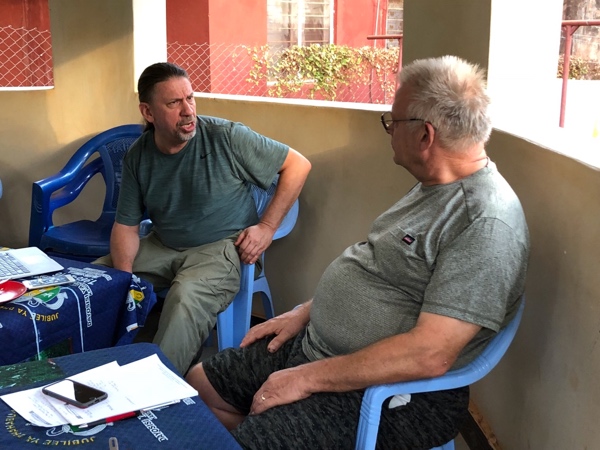 Bill and Bob Cutting in the DWT Guest Hostel Gazebo.
OK. So we are in Dubai now. Cathy will start writting in this blog soon. I'll be writing in our http://tzblog.schrull.us so stop by both of these sites over the next two weeks.
Bill