Catching Up on my Blogging
I will be catching up on my blogging over the next several days. And as I am starting on my first catchup post quite late this evening, it will be short. We must be up early tomorrow morning for communion at 7:00 am in the chapel. Chapel, a gathering of the diocesan compound staff, normally starts at 7:30. It usually consists of a scripture reading, a discussion of the scripture, prayers and announcements. It's a really great way to get all of the staff starting the day on the "right page" so to speak. As everyone scatters to different churches on Sundays, they gather for "family" Communion of Fridays.
Things have changed, as one would have expected, around to guest hostel. For one thing, it is all finished! Our rooms were the only rooms completed when we were here last. Sometime after we left, "my" kitchen, in the other room off of the sitting room was shifted from our suite to a small room that I thought was meant to be the guest house office. Everything I brought is still there, plus more, and Markalina and Betha oversee making sure that there is hot water and fruit and hard-boiled eggs for breakfast and afternoon coffee. I have a key so I can get in whenever I want but it is really Marlina's kitchen.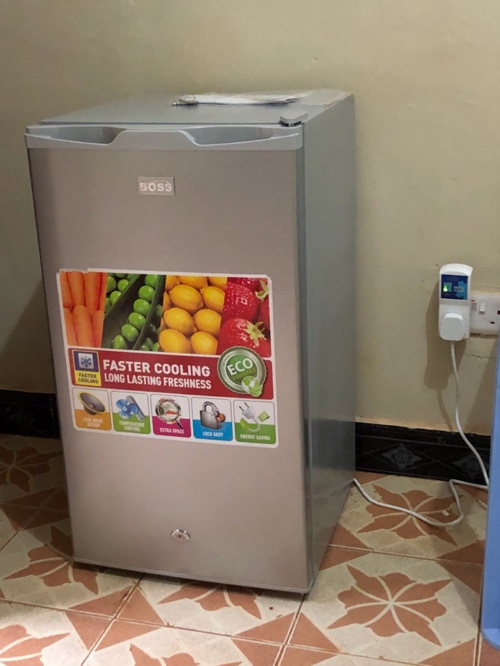 The new fridge.
We discovered that the small fridge we purchased for it two and a half years ago is really only fit for cooling canned sodas and very small snacks. The top shelf is so close the the internal freezer section that food is in danger of freezing solid. The bottom shelf is taken up by the shelf on the inside of the door. I decided that we needed a bigger fridge so that we can better keep things like eggs and fruit and veggies fresh. Tuesday morning was spent finding and purchasing that item, as well as getting our TZ phones correctly activated. The small fridge is now in the kitchen (it was previously in our sitting room.). And we have discovered that our new African phones will work very well and fairly inexpensively as wi-fi hotspots. Of course, we won't be doing any Netflix streaming over them!
Please continue to pray for us, that we use our time wisely and get the proper amount of rest verses ministry activities. More tomorrow!
Edited with BlogPad Pro